2012 BRC
It's time for the BOEALPS Basic Rock Class (BRC)!
The BRC is designed to bridge the gap between the Basic and Intermediate Climbing Classes. It introduces students to principles of technical rock and basic alpine climbing.
Students:
Application Deadline: Monday May 21st
Cost: $170 for BOEALPS Members / $200 for Non-Members
Instructors:
Your help is needed to lead students up where they've never been before. You can make this happen! Consider getting involved with the class this year. Even if you can only volunteer one day, your participation will make a big impact on a student's climbing life. Guaranteed! Basic instructor requirements include: BCC Skills (or equivalent), The ability to comfortably lead low to mid 5th class rock, and MOFA / WRFA  is highly recommended.
Students and instructors please read the BRC Handbook before applying.
---
BOEALPS Spring Campout
The group campsite is reserved for Friday (4/20) & Saturday (4/21) nights.
The BBQ Potluck is on Saturday night after the BCC & ICC are done with class. (approx. 6:00 pm)
When: April 20-22
Where: Bridge Creek Campground Group Site
What to Bring: The club will provide the main dish for the BBQ. BYOB and a side dish or dessert to share with others.
Who: BOEALPS members and guests
---
SBP & Colin Haley
Going Berserk On Point Mountains: A Party and Slideshow with Colin Haley
Free Party! Gear Giveaway! Colin Haley! Bouldering! Beverages!
Details:
Slideshow: 8 pm – 9pm
DJ: 5 pm – 8 pm & 9pm – 11pm
$5 Passes: After 5 pm
Presented by the charming folks at Feathered Friends.
Hosted by the gorgeous staff at Seattle Bouldering Project.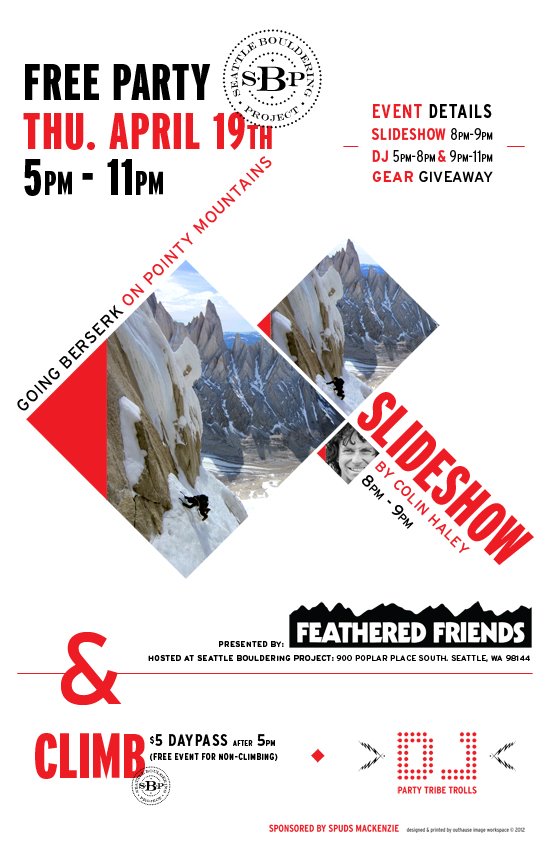 ---
Feathered Friends – 3 Types of Fun
Feathered Friends, April 12th @ 7pm for an evening of climbing related film shorts from a Smash & Grab style ascent of Burkett Needle in Alaska to mixed climbing with Steve House to disabled climbers keeping the dream alive.
Films by Dave Burdick and Duct Tape Then Beer folks Fitz Cahall and Austin Siadak.
The American Alpine Club and the Washington Climbers Coalition will also be kicking off a fundraising campaign for a toilet at Vantage.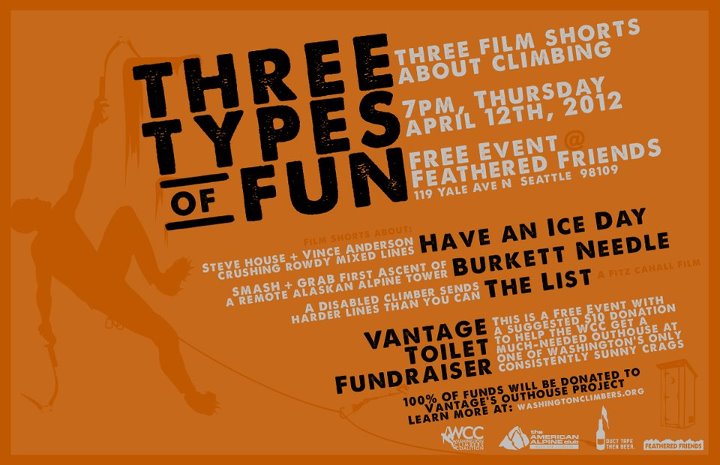 ---
Andrew Skurka
Andrew Skurka
, National Geographic Adventurer
Ultra long-distance backpacker, author and National Geographic Adventurer of the Year, Andrew Skurka, is coming to Seattle to present at The Mountaineers Program Center.
On 4/16, Skurka will give an adventure-themed slideshow, "Circling Alaska and Yukon: A 4,700-mile 6-month journey by foot, skis and packraft through Big Wilderness."
Click HERE for tickets!
BOEALPS Outreach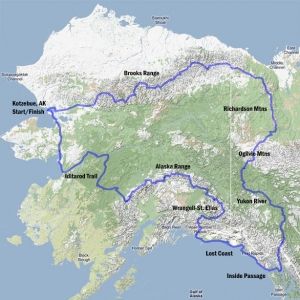 ---