Your Road to Denali
Join Outdoor Research in welcoming international guide, Greg Vernovage, for an informative session on what you'll need to prepare for your Denali climb. From flights and logistics to training and gear, Greg will be ready to field your questions!
Thursday, March 1 st @ 7:00 p.m.
Outdoor Research Retail Store (2203 1st Avenue South, in SODO)
Please call 206.971.1496 to R.S.V.P.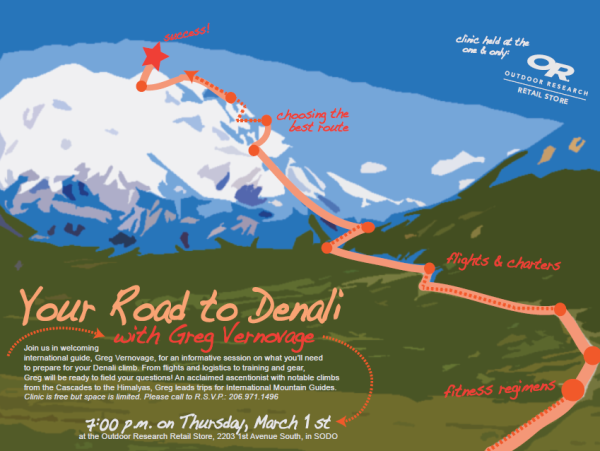 ---
Earth to Sky – Steph Davis
Date: Friday Feb 17, 2012 7:00 PM
Price: $10.00 – $13.00
Location: Mountaineers Program Center (7700 Sand Point Way NE Seattle, WA 98115)
World-class climber Steph Davis is presenting her slideshow "Earth to Sky."
A story of free climbing and base jumping four classic desert towers in Moab, Utah: Ancient Art, Hindu Tower, Sister Superior, and King of Pain.
Click HERE for tickets.
---
Safe Travel at High Altitude
Date: Monday, February 13 at 7:00 PM
Location: The Mountaineers Program Center (7700 Sand Point Way NE Seattle, WA 98115)
Got plans to climb at high altitude? Not sure how you or your partners will tolerate high elevation? Then come hear this talk from local physician Andy Luks and learn all about important issues that can affect any trip to altitudes above 8,000 feet.
---
2012 ICC

2012 ICC Student applications are now available online!
Check out the BOEALPS ICC web page for full details!
Prospective students should apply today as space is limited!
Applications are due by February 26th, 2012
Please contact the Head Instructor, Luke Shy, with any questions.
---