2012 Rock Climbing Seminars
The BOEALPS 2012 Fall Campout will offer a toprope and sport climbing seminars this year! These seminars allow students to learn, practice, and ask questions about these skills with instruction before putting them to use.
Checkout the rock climbing seminar page for more information.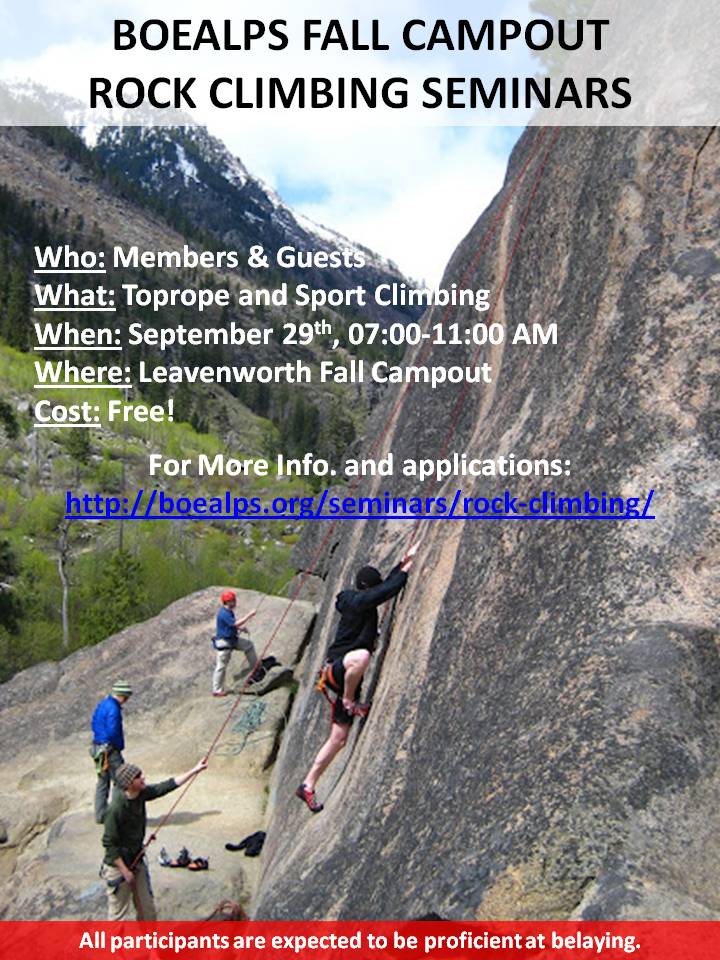 ---
2012 Presidents Climb
The 2012 Presidents climb is right around the corner on September 8th and 9th 2012! Come join me in Squamish, BC for some amazing rock climbing fun!
New to rock climbing? No worries. Meet up for some breakfast Saturday and Sunday mornings and find a partner or group to join. Otherwise join us at the Smoke Bluffs. Please bring all the necessary gear needed to rock climb.
Please RSVP on our Facebook page if you are planning to join us!
2012 BOEALPS President
Matthew Mitchell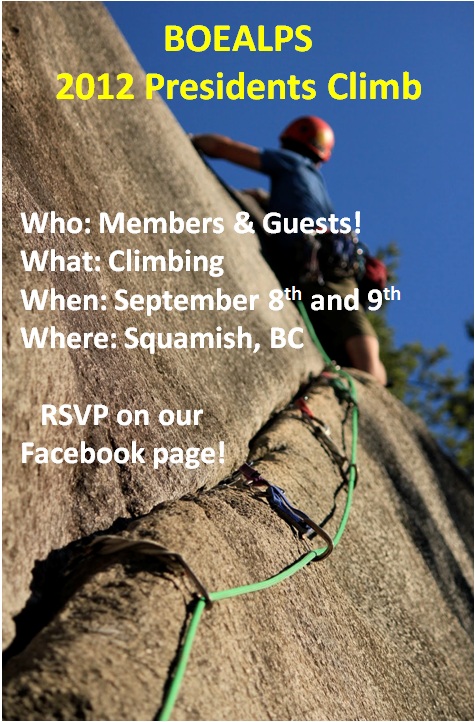 ---
2012 Summer Picnic
When: Thursday July 5th, 2011 – 6:30 PM
Where: Warren G. Magnuson Park – Shelter #3
BOEALPS will be providing the main dish (real hotdogs, burgers – veggie & beef). We ask that you please bring a potluck item to share. Last year picnic goers also brought climbing gear for use at the Mountaineer's Building outside wall.
Please join us this year for a great evening of eating, socializing, and climbing!
---
2012 BRC
It's time for the BOEALPS Basic Rock Class (BRC)!
The BRC is designed to bridge the gap between the Basic and Intermediate Climbing Classes. It introduces students to principles of technical rock and basic alpine climbing.
Students:
Application Deadline: Monday May 21st
Cost: $170 for BOEALPS Members / $200 for Non-Members
Instructors:
Your help is needed to lead students up where they've never been before. You can make this happen! Consider getting involved with the class this year. Even if you can only volunteer one day, your participation will make a big impact on a student's climbing life. Guaranteed! Basic instructor requirements include: BCC Skills (or equivalent), The ability to comfortably lead low to mid 5th class rock, and MOFA / WRFA  is highly recommended.
Students and instructors please read the BRC Handbook before applying.
---
BOEALPS Spring Campout
The group campsite is reserved for Friday (4/20) & Saturday (4/21) nights.
The BBQ Potluck is on Saturday night after the BCC & ICC are done with class. (approx. 6:00 pm)
When: April 20-22
Where: Bridge Creek Campground Group Site
What to Bring: The club will provide the main dish for the BBQ. BYOB and a side dish or dessert to share with others.
Who: BOEALPS members and guests
---