The Smiley Project Presentation
Want to learn about the 50 Classic Climbs in North America? Come join Mark and Janelle Smiley share their adventures as they chase these amazing routes! To learn more click HERE.
When: Wed. Aug. 14th @ 7.30 PM
Where: Feathered Friends
Cost: $5 (includes 1 raffle ticket to win swag).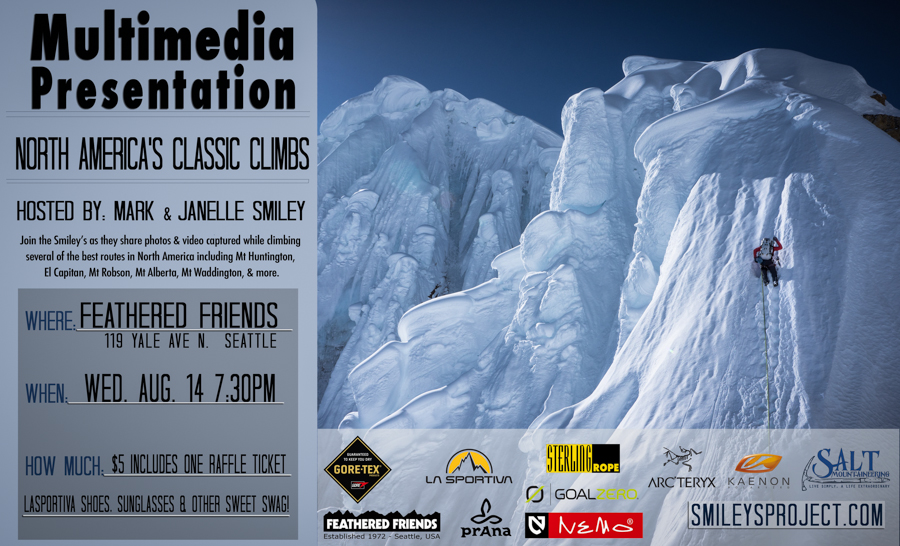 ---
BOEALPS 50 Year Event
We are excited to celebrate the 50th anniversary of BOEALPS with Mountain Hardwear!

Come celebrate BOEALPS 50th anniversary with our friends at Mountain Hardwear. This celebration kicks off the start of the club's 50th season of mountain climbing.

BOEALPS members, as well as students and volunteer instructors (both members and guests), will receive 50% off of their entire purchase! Free snacks and beverages will be provided. Please bring your membership card.

Date: June 6th 2013 from 4:00 PM to 8:00 PM
Location: Seattle Mountain Hardwear Store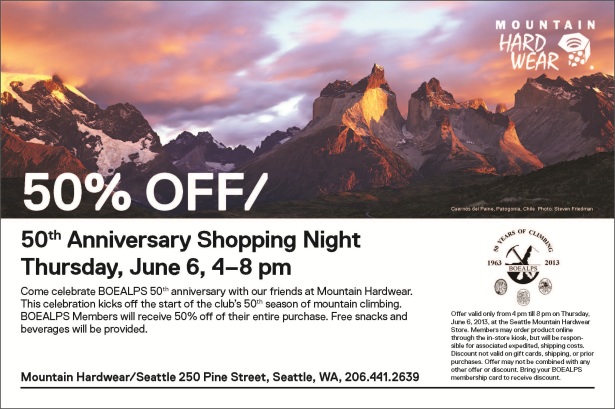 ---
50th Anniversary Climb
50th Anniversary Commemorative Climb
Climbers! This is your opportunity to participate in a sure to be historic climb. Commemorate the 50th Anniversary of the climb that led to the formation of our humble climbing club. Plan now to spend Memorial Day weekend driving down to Mt Shasta in northern California!
Details:
Destination: Mt. Shasta
Date: May 25-27, 2013
Climbers: BCC or equivalent skills
Questions / Sign-up: Contact Membership
A lot has changed in 50 years. One of those changes is a 10 person party limit on Mt Shasta. Another is the price of gasoline and chartered buses. For these reasons, we will not be able to rent a bus and all climb as one big party. The initial plan is for Sunday May 26 to be summit day. This allows for making the long drive down on Friday night and/or Saturday and the drive back to Seattle on Monday. (The 1963 party did the climb as a one day push with 7000 feet of elevation gain.)
Tentative Itinerary:
Friday May 24: Arrive at Bunny Flat trailhead (6880') stay here or hike in 1.7 miles to horse camp to acclimatize
Saturday May 25: Hike up to Helen Lake base camp (10,443')
Sunday May 26: Summit and decend to cars
Monday May 27: Drive back to Seattle
You are more than welcome to use this climb plan or do something a little different with Sunday as you summit day. This is often done as a day climb and also a ski decent.
Other Information:
Avalanche Gulch Route Description
Shasta-Trinity National Forest Website
---
2013 BRC
Attention potential BRC students and instructors,

It's time for the BOEALPS Basic Rock Class (BRC)!

The BRC is designed to bridge the gap between the Basic and Intermediate Climbing Classes. It introduces students to principles of technical rock and basic alpine climbing.

Click HERE for more information.
---
2013 BOEALPS Spring Campout
One of our best events of the year, the BOEALPS Spring Campout is upon us. It is April 19-21 which is about 3 weeks away. We have the Bridge Creek Campground group site reserved (same place as last year) and guests are welcome. The group site is about 100 yards past the big heavy gate which will hopefully be unlocked on time this time. I've got 70lbs of pork shoulder to smoke and will also have a few hotdogs, hamburgers and veggie burgers.
Due to the fact that we always have a huge surplus of food this year I am only asking BCC students and instuctors to bring a side item or desert for the potluck. If you bring a dish please bring everything needed to get it onto peoples plates. This isn't to pick on the BCC, you guys are the only single group thats large enough to feed everyone. Also do NOT bring chips, those that are supposed to bring chips will know about it. I'm trying to cut down on throwing away 15 half finished bags of chips in the morning.
When: April 19-21
Where: Bridge Creek Campground Group Site
What to Bring: The club will provide the main dish for the BBQ. BYOB and a side dish or dessert to share with others (NO CHIPS!).
Who: BOEALPS members and guests
---